irthermo Benchmark Dataset Collection
Introduction
This is a publicly available benchmark dataset for testing and evaluating novel and state-of-the-art computer vision algorithms. Several researchers and students have requested a benchmark of non-visible (e.g., infrared) images and videos. The benchmark contains videos and images recorded in and beyond the visible spectrum and is available for free to all researchers in the international computer vision communities. This effort was initiated by Dr. ghayoumi.
This benchmark is to be used for educational and research purposes only, and this benchmark must be acknowledged by the users.
Questions or comments regarding this benchmark should be sent to the benchmark steering committee at Dr. Ghayoumi Zadeh (Email:h.ghayoumizadeh@vru.ac.ir)
---
Dataset 01: Testis thermography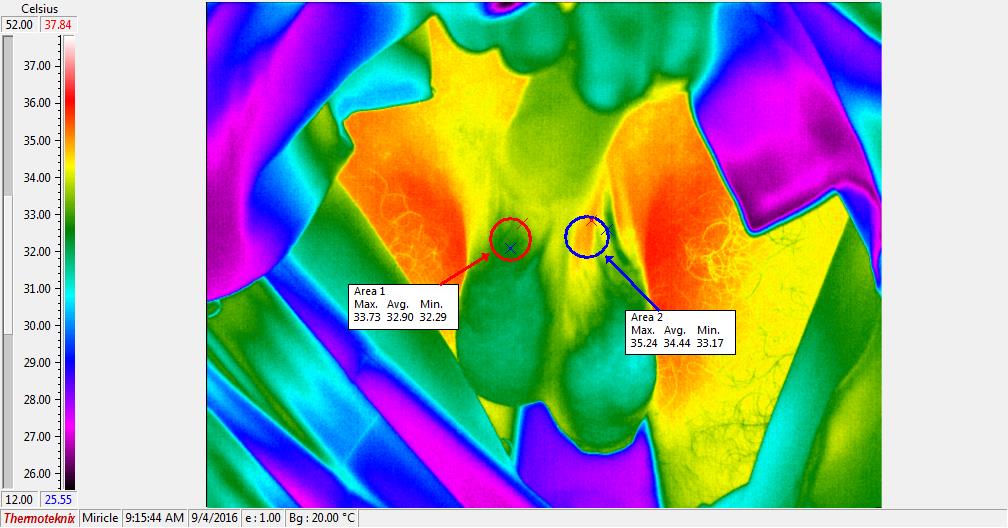 Topic of Interest:
Varicocele detection.
Camera:VIS-IR 640, Thermoteknix Production Company in England
Accuracy: ±0.01ā"ƒ (or ±2% of reading)
640 ĖŸ 480 , 25 µm pitch (307, 200 pixels)
Uncooled focal plane array (FPA) micro-bolometer
Spectral range: 7.5-13 µm
Thermal sensitivity: 50 mk
Accuracy: ±0.01ā"ƒ (or ±2% of reading)
Field of view: 26 į´¸ĖŸ20 į´¸
Temperature range: -20 to 500ā"ƒ
Visible camera: 1.3 M-pixel
Data Details:

Total number of images = 50
Format of images = 8-bit grayscale jpg
Image size =
Samples:
"If you need more pictures, Email your request"
Requested Citation Acknowledgment:
Namdari F, Dadpay M, Hamidi M. Evaluation of thermal imaging in the diagnosis and classification of varicocele. Iranian Journal of Medical Physics. 2017 Jun 1;14(2):114-21.[pdf]
Farshad Namdari, Masoomeh Dadpay, Morteza Hamidi, Hossein Ghayoumi Zadeh.Providing a model for the diagnosis of varicocele in the scrotum thermal images.Biomedical Research (2017) Volume 28, Issue 9.[pdf]
Point-of-contact:
Dr. ghayoumi zadeh,Assistant Professor of Biomedical Engineering, Vali-e-Asr University of Rafsanjan
---
Dataset 02: Breast Cancer thermography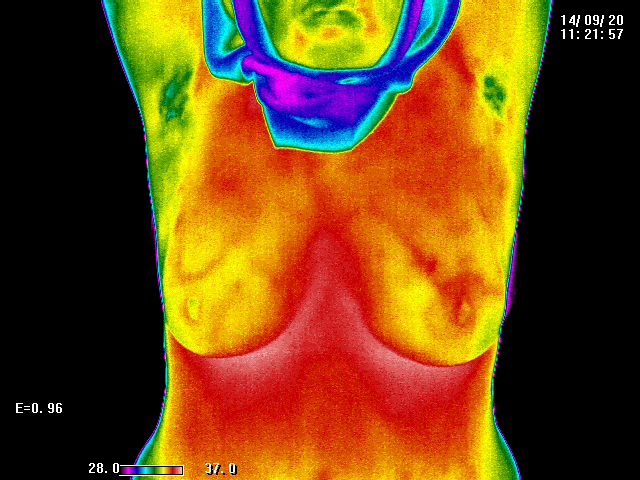 Topic of Interest:
Breast cancer detection.
Sensitivity (NETD) : 0.03°C at 30°C *3
Temperature accuracy : ±1°C *4
Field of view(F.O.V.) : 32°(H) x 24°(V)
Minimum Spatial Resolution : equivalent to 58μm *2 <in Super Resolution(SR) Mode>
Measuring Range: -40 to 500°C
Data Details:



Super Resolution Mode (1280 x 960 pixel) Spatial Resolution: equivalent to 0.58mrad *2
Standard Mode (640 x 480 pixel) Spatial Resolution: 0.87mrad
Samples:
"If you need more pictures, Email your request"

Requested Citation Acknowledgment:

Zadeh HG, Haddadnia J, Seryasat OR, Isfahani SM. Segmenting breast cancerous regions in thermal images using fuzzy active contours. EXCLI journal. 2016;15:532..[pdf]
Zadeh HG, Haddadnia J, Montazeri A. A model for diagnosing breast cancerous tissue from thermal images using active contour and lyapunov exponent. Iranian journal of public health. 2016 May;45(5):657.[pdf]

Point-of-contact:
Dr. ghayoumi zadeh,Assistant Professor of Biomedical Engineering, Vali-e-Asr University of Rafsanjan